Carpentry
Dedicated to offering the highest quality services in building, carpentry, construction, and remodeling.
Electrical
From recessed lights, generators, kitchen & bath renovations to landscape lighting and service pannels. Let us take care of you!
Plumbing
Dedicated to offering the highest quality Professional plumbing repairs, honest answers and friendly service.
Providing Superior Products, Service, and Solutions.
 How Can We Change Your Climate Today?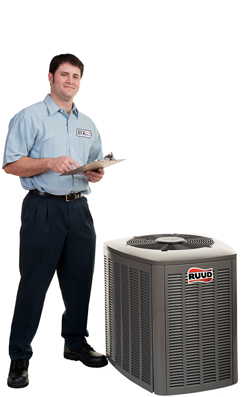 Ruud heating & cooling systems for your home
You are looking for the best you can buy in an air conditioner or furnace. A step up in design, technology and efficiency, saving you money as well as headaches.
Cleaner, Healthier Air...
Whole House Exact Fit Media Air Cleaners were designed to fit any Ruud central heating system. This exact-fit design maximizes filtration allowing your Ruud home comfort solution to make the air in your home cleaner and more comfortable.
Ruud Brand ENERGY STAR® Qualified Residential Cooling and Heating Products
Products awarded the ENERGY STAR® label significantly enhance energy savings while providing a healthy environment. Using these products helps you save money on your utility bills and works to protect the environment by conserving energy.
Promt 24 Hour Emergency Service!
Canadian winters are rough, and nothing is worse than finding out your furnace is broken, or a water pipe has burst. Bick offers 24 hour emergency service on your heating, plumbing and electrical services. We are there when you need us most.

ECRA/ESA - #7010652
TSSA - #000227864
Your Home Team Specialists
24 Hour Emergency Service
(226) 921-4848
384 Church St.
Stratford, ON N5A 2S1